Review By TFDutchman
DC Collectibles - Arkham City Harley Quinn Statue
Based on promotional artwork for the hugely popular Batman: Arkham City, DC Collectibles has launched their line of Arkham City statues with none other than the Joker's girlfriend: Harley Quinn.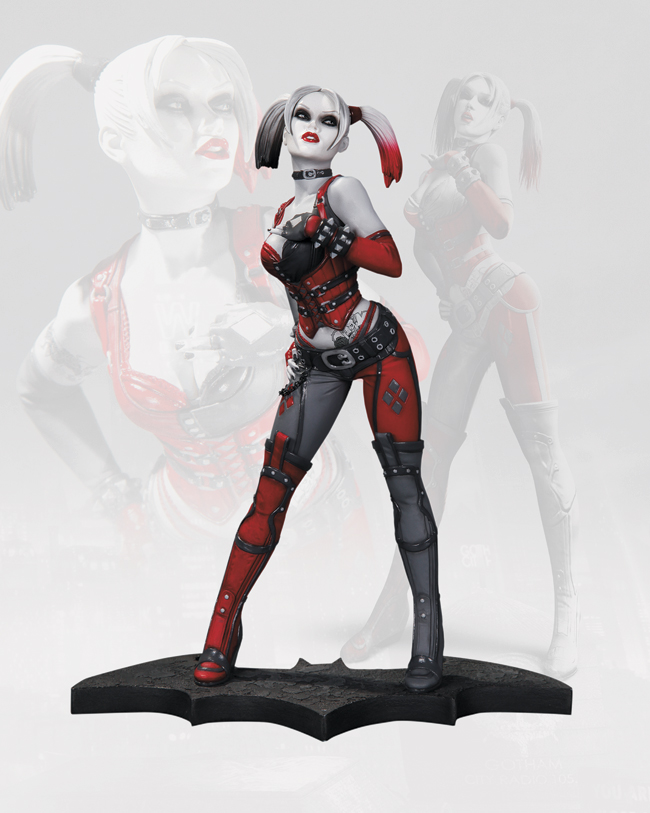 Standing approximately 23cm tall Harley is a must have for her fans, fans of Arkham City or simply fans of collectibles that will look great amongst your collection. Even sitting on your desk next to your monitor (like mine is) she looks fantastic.
Sculpted from cold-cast porcelain and hand painted it's hard to find fault with the detail and effort put into her design. Her pose is based off of a promotional character poster for the Arkham City game and the statue reflects that pose perfectly. A sly look over the shoulder, leaning forward a little provacatively with one hand on her hip and the other on her chest. In every sense of the word Harley looks sexy.
The monochromatic colouring looks sublime with Harley's skin and her being a great shade of white and grey shades with red, the only colour on the statue, perfectly standing out and emphasising the colouring of her outfit and the red colouring of her lipstick and tips in her hair. There may be the odd edging in the hand painted job, pa rticularly along the underside of her belt, but it's minimal and unnoticeable unless you go looking for it on purpose. You pretty much need a magnifying glass to pick it out. Everything about the paint job is close to perfect right down to the Joker card tattoos on Harley's waste and around her right arm.
The sculptors have paid a great deal of attention in sculpting Harley's outfit. Every hook, buckle, crease in her pants and elbow length gloves is finely detailed. There's even the small chain hanging on Harley's waste that further highlights just how much detail was put into the statue. Put all that on top of a base shaped like Batman's signature Bat-symbol with it's own detailing reminiscent of the crumbling Bat-symbol used in promotional images for the game.
At a cost of $125 there's no arguing that DC Collectibles's Arkham City Harley Quinn is well worth the price and would be a great addition to any collection. Add the fact that DC Collectibles is following up with The Joker and Nightwing, and potentially more statues in the series, Harley Quinn is the beginning of a great statue collection for any Arkham City fan or fans of great looking collectibles.
Final Score
9.7/10
Review By TFDutchman