LEGO - DC Super Heroes 10937 - Arkham Asylum Breakout
Set Details
* Minigures included:
- Batman
- Robin(Arkham City costume)
- Joker (Inmate suit)
- Poison Ivy
- The Penguin
- Scarecrow
- Dr. Harleen Quinzel
- A Guard
* Measures:
- Arkham Asylum measures over 12" (32cm) high, 13" (34cm) wide and 5" (14cm) deep
* Ages:
- Recommended for ages 12+
* Other stuff included:
- Security Van
- Main Gate
* Price:
$159,99
Released at the ending of last year, LEGO has made a really awesome job on what I would call as probably the best set from the whole Super Heroes line and also the biggest set of my entire Lego collection. But for most of the people it is also known as the "Arkham Asylum Breakout".
This set contains 1619 pieces of pure detail and awesomeness, and it also comes with 8 amazing minfigures(6 are exclusive to this set), which is another big reason to buy it. The asylum features:
- 2 Holding cells.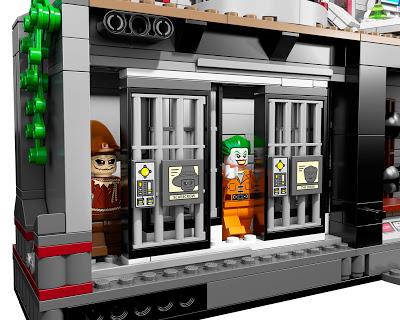 - 1 Locking chamber(exclusive to Poison Ivy).

- A medical treatment room.
- A low temperature cell(exclusive to Mr. Freeze(not Included in this set)).
- The security reception area.
- And Harley's secret room.

As I said before, the whole set is very, very, very detailed, since building gargoyles, to building the moss on the walls, to the gates of the main entrance, to the asylum itself. It took me several hours to put all the bricks together, and I gotta admit that I enjoyed every single second of it. It was a really fun set to build.
The Asylum features a pretty awesome gothic décor, and dark tone, that makes me want to congratulate the creator in person. That was really clever.
It is composted in 3 separated pieces: The right piece contains the cells. The Middle one, the security reception, and the medical treatment room. And the left one, Harleen Quinzel's office and Harley's room. And you can put them together in the way that you prefer. (Personally, I kept it the way it is).
The minifigures are very well made, and very detailed, most of them have back printing and double sided face. I think that Lego made the right choice of the characters to put in this set, considering that villains like Scarecrow, Penguin, and Harleen Quinzel are fan favorite characters. So, that's another thing that makes me congratulate Lego for this set.
If only they had included a James Gordon figure instead of a random guard.............
So, I gotta say, if you're a die hard Lego fan or/and a die hard Batman fan, this set is perfect for your collection. It is kinda expensive, but it worth every single cent, especially considering that this is an exclusive set. If you find it, do not think twice, just buy it. It is a great set!
Rating:
10/10